Search for products by name or item number

Welcome to eHatbands.com
Cowboy Hat Bands
If you don't look your best, you're cheating yourself!
You'll Love the Look! Find beaded, feather, horsehair, leather and snakeskin inlay hat bands here.
Fashionable, low cost replacement hat bands for mens and womens western hats.
FREE
First Class USPS Mail
SHIPPING! within the USA
Your
Satisfaction is
Guaranteed!
Hat Band Etiquette:
If your hat band has some type of decoration or focal point such as a bow or buckle,
that focal point is to be worn on the man's left side,
and anything on a woman's hat band must be on the right.
Please check out our fine cowboy hat band collections.
Click any link or picture.
Concho Cowboy Hat Bands
Concho or Concha means shell in the Spanish and Portuguese languages.
Concho Cowboy Hat Bands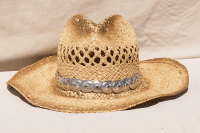 Beaded Cowboy Hat Bands
Hand Crafted Elastic Beaded Hat Bands and Horse Hair Beaded Hat Bands adaptable to most hats.
Beads are known to be one of the earliest forms of trade between the human race. It is thought that is because of bead trading that humans developed language. Beads are said to have been used and traded for most of our history. The oldest beads found to date were at Ksar Akil, in Lebanon. Prior to this find, the beads found in the Blombos Cave were the oldest at about 72,000 years old. Round is the most common shape of beads. The shape of the round beads lay together and is pleasing to the eye. Round beads can be made of glass, stone, ceramic, metal or wood.
Beaded Cowboy Hat Bands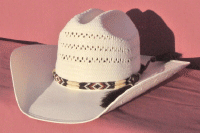 Customer reviews:
from Michael in Texas
Item - Beaded Hat Band AA-B1-A,F,H



It's been a while since I received my order but I just wanted to let you know that I think the 3 hatbands I ordered are great! They look very good on my hats. Would like to see more designs and colors in the future if possible. Keep up the good work!
From Debbie in Denver, CO



Dear Joe and Mickie,
I have to write to express my satisfaction with the two hat bands I ordered from you last week. They arrived much quicker than expected and are much better than I could have wished.
Now my only problem is that I may have to buy more hats in order to order more hat bands from you! Thank you again. Yours, Debbie
from Clint in Gig Harbor, WA
Item - Blue, Black and White Diamonds Beaded Hat Band with Horse Hair Tassels BS12c



Received my hat band yesterday and just wanted to say thank you! It's beautiful. Very well made sir. Made my old Stetson look damn near new again. I'll be ordering more from you!
Feather Cowboy Hat Bands
Feathers are used to decorate many commercial items such as earrings and other jewelry, hair ornaments, carnival masks, and fishing flies. The colorful body feathers and tail plumes of chickens, turkeys, pheasants, guineafowl, and related birds are the most common of these commercial "decorative feathers." The feathers of Ring-necked Pheasants rival those of domestic chickens and turkeys in popularity for decorative uses. The species, also known as Common Pheasant, has been widely introduced in North America and elsewhere, and is very commonly raised on game farms. The plumage of the male Ring-necked Pheasant is complex, with each body region exhibiting a different pattern. Ring-necked Pheasants are the only pheasant species for which the feathers of females are commonly used in decorative objects. This is due to their ready availability, combined with their attractive patterning.
Feather Cowboy Hat Bands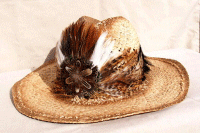 Horsehair Cowboy Hat Bands
Vaquero Quality Horsehair Hat Bands. The Vaquero, or Spanish Mexican cowboy, was considered a highly skilled worker and was the first to use horsehair to braid hat bands.
Horse hair is the long, coarse hair growing on the manes and tails of horses. The longer tail hair is mostly used for belts and necklaces while the shorter finer mane hair is used for bracelets and other jewelry. My research indicates the first use of horse hair was by the Spanish in the 8th century as a textile. One historic use was for gloves commonly used for fishing in the medieval age leading up to the 17th century in cold climates. Gloves woven from horse hair fibers were a very popular option in cold climates because horse hair is a very good insulator and also has a natural oil and rigid structure that allows them to be woven tightly and remain water proof and warm. Hair braiding dates back to the first dynasty of Pharaoh Menes. Ancient Egyptian sources describe Libyan men with long hair, braided and beaded. The art of braiding has mostly survived by western prison inmate hobbyists making reins, belts, bracelets, earrings, hat bands and barrettes. Horse hair jewelry gives its wearers an earthy, rustic look.
Horsehair Cowboy Hat Bands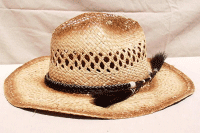 Customer reviews:
from Bailey in Athens, GA
Item - Brown Tassels Three Strand Horse Hair Hat Band HH3A
What do you think of the Appearance?



It is obviously the work of a seasoned artisan. Beautiful continuity of tension and geometric symmetry.
What do you think of the Durability?



It appears to be as durable as horse hair can allow. I would assume that over time, the band will require protection from moths and other ravenous pests.
What do you think of the Quality?



It is unquestionably made of quality horse hair and rendered with professional technique.
What do you think of the Functionality?



I stitched this braided band onto my hemp braid hat. The horse hair reinforces the shape, fit and rigidness of my hat, which will also serve to help keep my hat on my head in the wind. My hat is a real hat since I removed the cloth band and put on your utilitarian work of art.
Leather Cowboy Hat Bands
Simply put, leather is awesome. History shows how it represents wealth and status. Care should be taken to match the color of the hat band and any metal accents to that of the belt and boots. We have a large assortment of quality Leather Hat Bands.
Leather Cowboy Hat Bands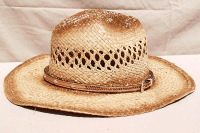 Customer reviews:
from John in Staffordshire, England
Item - Brown Leather Western Hatband with Brown Woven Center oc298



I ordered a hat band from yourselves, to replace a hat band on my fathers old hat! The new hat band has arrived, and I would like to thank you for a first class product, at an excellent price, together with very fast service! My father is very pleased with his rejuvenated hat!
SnakeSkin Cowboy Hat Bands
Stylish Leather Hat Band with Rattle SnakeSkin Inlay and a Buffalo nickel form concho.
SnakeSkin Cowboy Hat Bands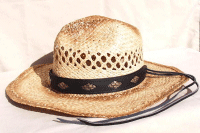 Customer reviews:
from Patty in Colorado
Item - Black Snakeskin Hat Band nsl778D



The black leather hatband with rattlesnake inserts arrived today. It went beyond all expectations - beautiful workmanship, fine design and very attractive. Though you might want to know that it's new home will be with a friend who lives in a little village in Norway. He's going to love it. Thank you sooooooooooooo much!
from Greg
Item - Black Snakeskin Hat Band nsl778D



Just wanted to let you know how pleased I am with my black leather snakeskin hatband. I placed the order on Friday night, and it arrived in my mailbox Monday! Everyone that has seen it raves about it. I have it on an ivory-colored hat, and it looks like they were made for each other. Needless to say, I'm singing your praises, and already a co-worker wants one of his very own. Thanks again for such great service and for such a work of art! Take care!
from Lane
Item - Black Snakeskin Hat Band nsl778D



I picked out the Black Leather Snake skin Hat band and when I saw it I went WOW. The hat band looks great I was not expecting it to be this clean looking and nice for the price I'm very happy with it and will tell all who ask where I picked it up at. Thank you very much and I will buy again in the future.
We are hard to catch on the phone.
It's best to call weekday evenings after 5:00 PM Mountain time (that's 7:00 PM ET)
Or any time on the weekends.
Joe
1-406-370-1150


I'd LOVE to Hear Your Feedback