Search for products by name or item number

Welcome to eHatbands.com
Hat Bands as low as $19.95
If you don't look your best, you're cheating yourself!
You'll Love the Look! Find beaded, feather, horsehair, leather and snakeskin inlay hat bands here.
Fashionable, low cost replacement hat bands for mens and womens western hats.
FREE
First Class USPS Mail
SHIPPING! within the USA
Your
Satisfaction is
Guaranteed!
131 Hat Bands. Choose Your Hat Band Here.
The original purpose of a leather hat band was to adjust the hat size to fit the head and cover the stitching where the crown and brim meet. Today, the hat band can be an attractive accessory to change the look of all felt and straw hats. Changing the band changes and personalizes a hat conforming to one's taste, complexion and hair. An example might be turquoise to accent blue eyes. One popular idea is to harmonize the hat band with a shirt or complete suit. Most people should have more than one hat, one for dress as well as one for every day. We have bracelets, key rings and necklaces matching some hat bands.
Hat Band Etiquette:
If your hat band has some type of decoration or focal point such as a bow or buckle,
that focal point is to be worn on the man's left side,
and anything on a woman's hat band must be on the right.
Please check out our fine collections.
Click any link or picture.
Alligator Hat Bands
Imitation Alligator Hat Bands with gold plated tip and buckle.
Imitation Alligator Hat Bands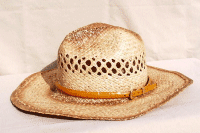 Beaded Hat Bands
Hand Crafted Elastic Beaded Hat Bands and Horse Hair Beaded Hat Bands adaptable to most hats.
Beads are known to be one of the earliest forms of trade between the human race. It is thought that is because of bead trading that humans developed language. Beads are said to have been used and traded for most of our history. The oldest beads found to date were at Ksar Akil, in Lebanon. Prior to this find, the beads found in the Blombos Cave were the oldest at about 72,000 years old. Round is the most common shape of beads. The shape of the round beads lay together and is pleasing to the eye. Round beads can be made of glass, stone, ceramic, metal or wood.
Beaded Hat Bands or Headbands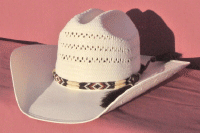 Bone Hat Bands
Two and three strand Bone Bead Hat Bands
Elk rib bones were the original material for the long, tubular hair pipe beads. Most modern bone beads are made from cow or sheep or camel bones and are a byproduct of the food industry and are popular for breastplates and chokers among Plains Indians. Black variations of these beads are made from the animals' horns. A hair pipe is a term for a wide slim bead, more than 1.5 inches long, which were popular with American Indians, particularly from the Great Plains and Northwest Plateau. Bone beads generally come from Indonesia, India or Africa where they are made by hand in small factories and private homes. These beads are still carved and dyed by hand making each unique.
Bone Bead Hat Bands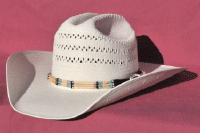 Concho Hat Bands
Concho or Concha means shell in the Spanish and Portuguese languages.
Concho Hat Bands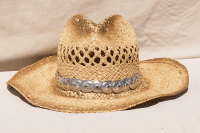 Feather Hat Bands
Feathers are used to decorate many commercial items such as earrings and other jewelry, hair ornaments, carnival masks, and fishing flies. The colorful body feathers and tail plumes of chickens, turkeys, pheasants, guineafowl, and related birds are the most common of these commercial "decorative feathers." The feathers of Ring-necked Pheasants rival those of domestic chickens and turkeys in popularity for decorative uses. The species, also known as Common Pheasant, has been widely introduced in North America and elsewhere, and is very commonly raised on game farms. The plumage of the male Ring-necked Pheasant is complex, with each body region exhibiting a different pattern. Ring-necked Pheasants are the only pheasant species for which the feathers of females are commonly used in decorative objects. This is due to their ready availability, combined with their attractive patterning.
Feather Hat Band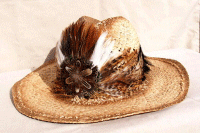 Horsehair Hat Bands
Vaquero Quality Horsehair Hat Bands. The Vaquero, or Spanish Mexican cowboy, was considered a highly skilled worker and was the first to use horsehair to braid hat bands.
Horse hair is the long, coarse hair growing on the manes and tails of horses. The longer tail hair is mostly used for belts and necklaces while the shorter finer mane hair is used for bracelets and other jewelry. My research indicates the first use of horse hair was by the Spanish in the 8th century as a textile. One historic use was for gloves commonly used for fishing in the medieval age leading up to the 17th century in cold climates. Gloves woven from horse hair fibers were a very popular option in cold climates because horse hair is a very good insulator and also has a natural oil and rigid structure that allows them to be woven tightly and remain water proof and warm. Hair braiding dates back to the first dynasty of Pharaoh Menes. Ancient Egyptian sources describe Libyan men with long hair, braided and beaded. The art of braiding has mostly survived by western prison inmate hobbyists making reins, belts, bracelets, earrings, hat bands and barrettes. Horse hair jewelry gives its wearers an earthy, rustic look.
Horsehair Hat Bands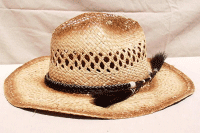 Leather Hat Bands
Simply put, leather is awesome. History shows how it represents wealth and status. Care should be taken to match the color of the hat band and any metal accents to that of the belt and boots. We have a large assortment of quality Leather Hat Bands.
Leather Hat Bands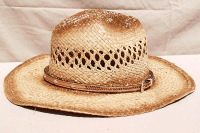 Suede Hat Bands
Braided Suede Hat Bands with Oak leaf caps.
Suede is made from the inside of the hide. It is made from a hide that has been split, which makes it softer and more like velvet than its leather counterpart.
Braided Suede Hat Bands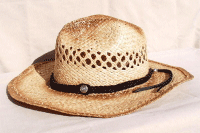 Braided Leather Hat Bands
Three strand mystery Braid Leather Hat Bands
Leather, with its shiny surface, is made from the outside of a hide that has been tanned.
Braided Leather Hat Bands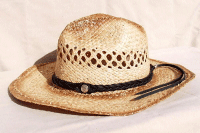 Ostrich Hat Bands
Imitation Ostrich Hat Bands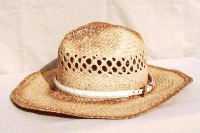 SnakeSkin Hat Bands
Stylish Leather Hat Band with Rattle SnakeSkin Inlay and a Buffalo nickel form concho.
Rattlesnake SnakeSkin Inlay Hat Bands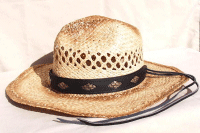 We are hard to catch on the phone.
It's best to call weekday evenings after 5:00 PM Mountain time (that's 7:00 PM ET)
Or any time on the weekends.
Joe
1-406-370-1150


I'd LOVE to Hear Your Feedback
Ranchers.net Links - A Ranch, Cattle and Livestock Directory
RanchLinks.com's Ranch and Livestock Links!
Improve site's link popularity & visibility
Seo Friendly - Life Time Links Web Directory
Article and Link Directory100% Search engine friendly Human Edited Article and Link Directory with Free and Paid Inclusions and Deep Links for Site Links and Articles. Submit your Site now.
Copyright ©2008-2019 eHatbands.com All rights reserved.
No part of this website shall be reproduced or transmitted by any means without written permission.