Search for products by name or item number

Black Snakeskin Hat Band
Diamond Snakeskin Leather Hat Band
Add some style to your Western hat.
A hat without a band can look naked, so dress it up.
This 1 1/8" wide band is big on style.
Features leather with diamond shaped cut-outs and real snakeskin inlay.
A concho in the center has the appearance of a buffalo nickel.
Everyone will be looking at your hat, with this amazing band.
This band goes around the hat and ties in back with a leather lace.
One size fits all hats.
Real Rattlesnake skin diamond accents.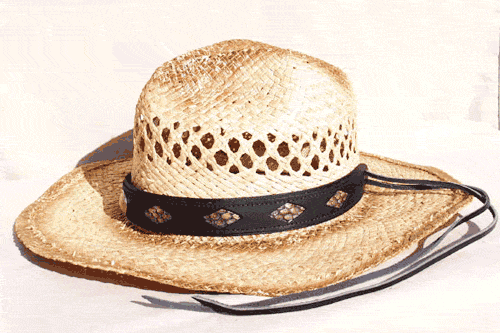 International Shipping
Any order to destinations outside the United States require an additional payment of $10.00 US per order not per item.
Shipping rates are extreme!


Customer reviews:
from Patty in Colorado
March 16, 2013
Item - Black Snakeskin Hat Band nsl778D


The black leather hatband with rattlesnake inserts arrived today. It went beyond all expectations - beautiful workmanship, fine design and very attractive. Though you might want to know that it's new home will be with a friend who lives in a little village in Norway. He's going to love it. Thank you sooooooooooooo much!
from Greg
Item - Black Snakeskin Hat Band nsl778D


Just wanted to let you know how pleased I am with my black leather snakeskin hatband. I placed the order on Friday night, and it arrived in my mailbox Monday! Everyone that has seen it raves about it. I have it on an ivory-colored hat, and it looks like they were made for each other. Needless to say, I'm singing your praises, and already a co-worker wants one of his very own. Thanks again for such great service and for such a work of art! Take care!
from Lane
Item - Black Snakeskin Hat Band nsl778D


I picked out the Black Leather Snake skin Hat band and when I saw it I went WOW. The hat band looks great I was not expecting it to be this clean looking and nice for the price I'm very happy with it and will tell all who ask where I picked it up at. Thank you very much and I will buy again in the future.
If you like this page, this is how you can link to it.
Contact me.
I'll trade links from this page to your relevant page, not to or from a links page.
Google likes links between pages with content relating to similar subjects in an appropriate way.

Back to top of page | Skip to bottom of page
You don't like your credit card on the net?
Click here for an order form to print.
Click here to go to our home page.
I'd LOVE to Hear Your Feedback