eHatbands Home Page > SnakeSkin Hat Bands $34.95 each > Diamond Inlay Rattlesnake Snake Skin Brown Leather Cowboy Hat Band
Search for products by name or item number

Your appearance matters.
We help you look excellent!
If you don't look your best, you're cheating yourself!
Free Shipping in the USA
Brown Leather Rattlesnake Snakeskin Inlay Hat Band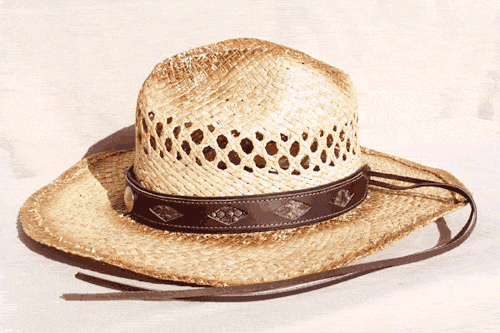 What is the meaning of Brown Leather?
Brown leather represents a sense of strength, reliability and confidence. This Rattlesnake Snakeskin hat band has Brown Leather.
What is Leather?
Leather, with its shiny surface, is made from the outside of a hide that has been tanned. Simply put, leather is awesome. History shows how it represents wealth and status. This Rattlesnake Snakeskin hat band has Brown Leather.
What is the meaning of a Diamond Shape?
The diamond or rhombus is geometric figure of healing. This Rattlesnake Snakeskin Brown Leather hat band has 8 diamond shape cut-outs.
What is Inlay?
Inlay covers a range of techniques in sculpture and the decorative arts for inserting pieces of contrasting, often coloured materials into depressions in a base object to form ornament or pictures that normally are flush with the matrix. This Rattlesnake Snakeskin Brown Leather hat band has Real Rattlesnake Skin inlay.
What is Rattlesnake Skin?
Rattlesnakes receive their name from the rattle located at the end of their tails, which makes a loud rattling noise when vibrated that deters predators or serves as a warning to passers-by. Rattlesnakes are native to the Americas, living in diverse habitats from southwestern Canada to central Argentina. The large majority of species lives in the American Southwest and Mexico.
Snakeskin may either refer to the skin of a live snake, the shed skin of a snake after molting, or to a type of leather that is made from the hide of a dead snake. The skin of a snake is a physically protective layer. It helps prevent injury, prevents drying out, and helps snakes to move. Snakes can be ornately patterned. They can be striped, banded, solid, green, blue, yellow, red, black, orange, brown, spotted, or have a unique pattern all their own. These color schemes can serve many functions, including camouflage, heat absorption or reflection, or may play other, less understood roles.

This Rattlesnake Snakeskin Brown Leather hat band has Real Rattlesnake Skin.
What is a Buffalo Nickel?
The Buffalo or Indian Head Nickel are two sides of the same coin and were minted from 1913 to 1938. James Fraser who was an American sculptor designed the coins. In a 1947 radio interview, Fraser discussed his design, "Well, when I was asked to do a nickel, I felt I wanted to do something totally American, a coin that could not be mistaken for any other country's coin. It occurred to me that the buffalo, as part of our western background, was 100% American, and that our North American Indian fitted into the picture perfectly." This Rattlesnake Snakeskin Brown Leather hat band has one Buffalo Nickel Concho.
What is a Concho?
A metal ornament, often silver and round or oval, that is traditionally used on clothing in southwestern USA. It may be stamped or handmade and is often inlaid with a stone. Concho or Concha means shell in the Spanish and Portuguese languages. This Rattlesnake Snakeskin Brown Leather hat band has one Buffalo Nickel Concho.
What is a Hat Band?
The original purpose of a leather hat band was to adjust the hat size to fit the head and cover the stitching where the crown and brim meet. Today, the hat band can be an attractive accessory to change the look of all felt and straw hats. Changing the hat band restyles and personalizes a hat conforming to one's taste.
Diamond Snakeskin Leather Hat Band
This band is like a miniature belt for your hat. You'll be impressed with the appearance and quality!
This strong and sturdy 1 1/8" wide band is big on style.
Features two layers of leather with eight diamond shaped cut-outs and real rattlesnake skin inlay.
A concho in the center has the appearance of a buffalo nickel.
Leather is a natural product which is derived from the outer layer of animal hide and is shinier than suede.
The back connects with a leather lace tail and a silver plated metallic bead which lets you adapt to the hat size (see image below).

The edge stitching adds elegance and strength.
Everyone will be looking at your hat, with this amazing band.
One size fits most hats.
Looks great on felt, and adds a lot of class to a straw hat.
To prevent loss of your new hat band, it should be anchored with fishing line or a few spots of super glue.
Hat not included.
Brown Leather
Item #
nsL778d-brnsn
$34.95 each



About Hats
What is a Cowboy?
A Western Cowboy is an animal herder who tends cattle on ranches in North America, traditionally on horseback. The Cattleman and often performs a multitude of other ranch-related tasks. In Australia most ranchers are in the Outback. The Outback is the vast, remote interior of Australia. The largest industry across the Outback, in terms of the area occupied, is sheep and cattle grazing.
What is a cowgirl?
A cowgirl is a woman who tends free-range cattle, especially in the American West. Also a woman who identifies with cowboy culture, including clothing such as the cowboy hat.
What is a Headwear?
Headwear is the name given to any element of clothing which is worn on one's head.
What is a Cowboy Hat?
The Cowboy Hat, aka Western Hat, is a high-crowned, wide-brimmed hat best known as the defining piece of attire for the North American cowboy. Cowboy Hats were most likely adopted from the Mexican Vaqueros. Modern cowboy hats are made of fur-based felt. Felt is a textile material that is produced by matting, condensing and pressing fibers together. Felt Hats can be made of natural fibers such as wool or animal fur, e.g., Wool Felt or Fur Felt. This Rattlesnake Snakeskin Brown Leather is the perfect accessory for a cowboy hat.
What is a Fedora Hat?
Fedora Hat has a soft brim and indented crown. It is typically creased lengthwise down the crown and "pinched" near the front on both sides. This Rattlesnake Snakeskin Brown Leather is the ideal adornment for a fedora hat.
What is a straw hat?
A straw hat is a brimmed hat that is woven out of straw or straw-like materials from different plants or synthetics. The hat is designed to protect the head from the sun and against heatstroke. This Rattlesnake Snakeskin Brown Leather is an unequaled accent for a straw hat.
What is a Panama hat?
A Panama hat is a traditional brimmed straw hat of Ecuadorian origin. Ecuadorian wide brim hats are light-colored, lightweight, and breathable, and often worn as Dress Hats with summer-weight suits, such as those made of linen or silk. This Rattlesnake Snakeskin Brown Leather is a flawless attachment for a Panama hat.
What is a top hat?
A top hat is a tall, flat-crowned hat for men traditionally associated with formal wear in Western dress codes, meaning white tie, morning dress or frock coat. The top hat is traditionally made of black or grey silk. This Rattlesnake Snakeskin Brown Leather is a supreme complement to a top hat.
If you like this page, this is how you can link to it.
Contact me.
I'll trade links from this page to your relevant page, not to or from a links page.
Google likes links between pages with content relating to similar subjects in an appropriate way.

Back to top of page | Skip to bottom of page
You don't like your credit card on the net?
Click here for an order form to print.
Click here to go to our home page.
I'd LOVE to Hear Your Feedback