eHatbands Home Page > Hitched Webbing Hat Bands
Search for products by name or item number

Free Shipping in the USA
Welcome to eHatbands.com
Have that southwestern hitched look with these multicolored chevron and geometric pattern hat bands.
Hitched Webbing Hat Bands
Hitched Webbing Hat Band - The look and feel of hitched horse hair at a much lower cost. Only $29.95.
Hitched horse hair bat bands start at $180.00 and can be much more expensive!
FREE
First Class USPS Mail
SHIPPING! within the USA
Please click any link or picture to see details.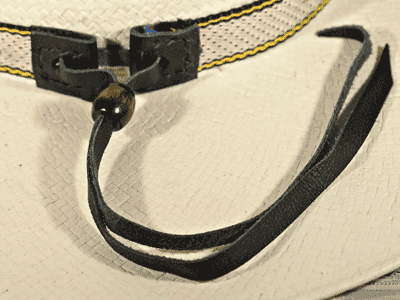 Adjustable closure is accomplished with black leather lace and a sliding dark wood bead.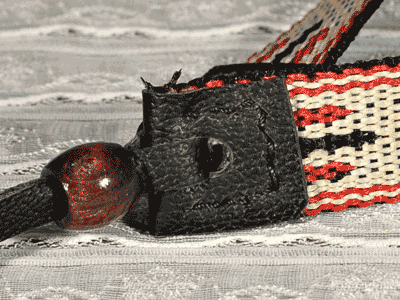 The ends are glued and hand stitched for optimum strength.
Hitched webbing looks and feels like hitched horse hair but at a much lower cost.

This western style woven braid with multicolored geometric patterns is a jacquard weave made from polyester thread.
Why polyester you might ask?
Polyester is strong, light weight, and Eco-Friendly. It is a kind of plastic. Plastic bottles are actually recycled into polyester fabric. It is resistant to shrinking, stretching, wrinkling, abrasions, and many chemicals.

The term "jacquard&quot indicates how the pattern is woven, not the specific pattern itself.
In jacquard fabric, the pattern and colors are incorporated into the weave instead of being printed or dyed onto the surface of the fabric. It is a quick-drying fabric which retains its shape very well. It is easy to look after, can be washed and dried at home.
So, you can have a recycled milk jug on your hat???
Just joking, but yes!
Width is 3/4"
Length is adjustable from 22" to 36"


Back to top of page | Skip to bottom of page
You don't like your credit card on the net?
Click here for an order form to print.
Click here to go to our home page.
I'd LOVE to Hear Your Feedback