eHatbands Home Page > Horse Hair Hat Bands > Black French Braided Center Real Horse Hair Hat Band
Search for products by name or item number

Your appearance matters.
We help you look excellent!
If you don't look your best, you're cheating yourself!
Free Shipping in the USA
Black French Braided Center Real Horse Hair Hat Band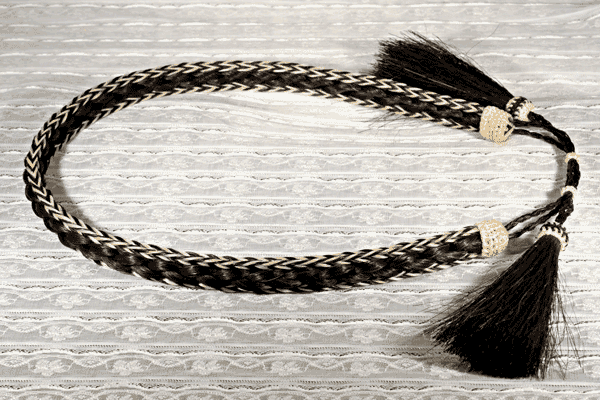 Real Horse Hair
Adjustable Slide Knot
Made in the USA
1/2" Wide
Fits Most Hats
Free US Shipping
Item #
HB82A-5,hbpm
$39.95 each
Black French Braid Center



If you like this item, please share it with your friends.
They might like it also!

ref="https://twitter.com/share?ref_src=twsrc%5Etfw" class="twitter-share-button" data-url="http://www.ehatbands.com/horse-hair-western-cowboy-hat-bands/hb82a_bk-french-braid-horsehair-hat-band.htm" data-lang="en" data-show-count="false">Tweet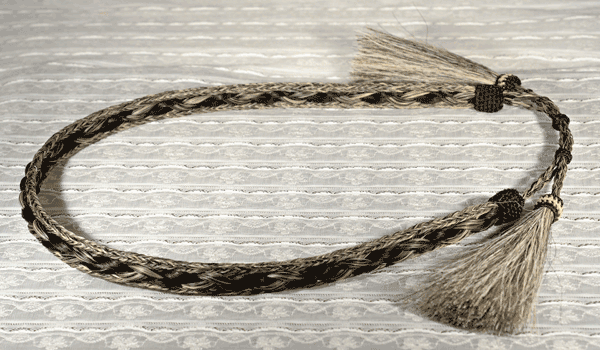 Real Horse Hair
Adjustable Slide Knot
Made in the USA
1/2" Wide
Fits Most Hats
Free US Shipping
Item #
HB82A-11,hbpm
$39.95 each
Black French Braid Center



If you like this item, please share it with your friends.
They might like it also!
Frequently Asked Questions
What is the meaning of Black Color?
Black is the darkest color, the result of the absence or complete absorption of visible light. It was one of the first colors used in art[7]. The color black represents strength, seriousness, power, and authority. Black is a formal, elegant, and prestigious color[8].
What is Horse Hair?
Horse hair is the long, coarse hair growing on the manes and tails of horses. Horsehair can be very stiff or very fine and flexible, mane hair is generally softer and shorter than tail hair. The texture of horse hair can be influenced by the breed and management of the horse, including natural conditions such as diet or climate[53]. Horse hair is the only kind of hair that is harvested without killing the animal. The hair comes from the mane or tail. Think of it as a haircut. The barber doesn't kill you to lower your ears[54]. Horse hair is strong. Items made from it lasts for years, if not decades!
Horse Hair Tassel
What is a Horse Hair Tassel?
The tassel (plural tassels) is a ball-shaped bunch of plaited hairs from which at one end protrudes a cord on which the tassel is hung, and which may have loose, dangling hairs at the other end[56]. Tassels a finishing decoration on hat bands, key rings and zipper pulls. They are a universal ornament that is seen in varying versions in many cultures around the globe[57]. Every tassel includes a horse hair knot. Knots cover areas where items are sewn or glued. They are decorative as well as functional. The knot, sometimes called a button, also stops the braid from unraveling similar to a rubber band on a French braid.
What is Horse Hair Braiding?
Most horse hair braiders use a square or box braiding technique to create the strands. The strands are about 1/8" square and then can be sewn together side-by-side to make a wide surface for any project. For example, a seven strand hat band will be 7/8"wide.
I have tried to learn the four strand braid technique. I found it confusing, very time intensive and the end result left a lot to be desired! The search for a braiding machine has been futile. My admiration goes to those who are proficient in the art.


The art of braiding has mostly survived by western prison inmate hobbyists making reins, belts, bracelets, earrings, hat bands and barrettes. Horse hair jewelry gives its wearers an earthy, rustic look.
What is French Braid?
The French braid hairstyle has been used for thousands of years. It is the simplest form of braiding using three groups of hair[42]. Braid is the symbol of strength and unity. The term French braid is used on the human head because of the various lengths of hair involved[43]. French braid starts with three small sections of hair near the crown of the head, which are then braided together toward the nape of the neck, gradually adding more hair to each section as it crosses in from the side into the center of the braid structure. These are actually a simple three strand braid where all the hair is initially divided into three equal sections where one outside strand across the center strand and then pass the other one across the center one.
What is a Hat Band?
A hat band is a band or ribbon placed about the crown of a hat, just above the brim[127]. The original purpose of a leather hat band was to adjust the hat size to fit the head and cover the stitching where the crown and brim meet. Today, the hat band can be an attractive accessory to change the look of all felt and straw hats. Changing the hat band restyles and personalizes a hat conforming to one's taste.
Customer reviews:
from Mark in Wilmington, NC
Black French Braid Center Horse Hair Hat Band HB82A
What made you want to try this product?
Never seen a hat band like these.
What do you think of the Appearance?



Looks Great.
What do you think of the Durability?



They look like they will last forever.
What do you think of the Quality?



The tassels are nice and tight. Other ones that I have are a bit all over the place.
What do you think of the Functionality?



Works awsome and the slides are tight.
Is there anything else you would like to tell me?
Great looking, high quality. Keep up the good work.
About Hats
A Western Cowboy is an animal herder who tends cattle on ranches in North America, traditionally on horseback. The Cattleman and often performs a multitude of other ranch-related tasks. In Australia most ranchers are in the Outback. The Outback is the vast, remote interior of Australia. The largest industry across the Outback, in terms of the area occupied, is sheep and cattle grazing.
A cowgirl is a woman who tends free-range cattle, especially in the American West. Also a woman who identifies with cowboy culture, including clothing such as the cowboy hat.
Headwear is the name given to any element of clothing which is worn on one's head.
The Cowboy Hat, aka Western Hat, is a high-crowned, wide-brimmed hat best known as the defining piece of attire for the North American cowboy. Cowboy Hats were most likely adopted from the Mexican Vaqueros. Modern cowboy hats are made of fur-based felt. Felt is a textile material that is produced by matting, condensing and pressing fibers together. Felt Hats can be made of natural fibers such as wool or animal fur, e.g., Wool Felt or Fur Felt. This Black French Braid Center Real Horse Hair Hat Band is the perfect accessory for a cowboy hat.
Fedora Hat has a soft brim and indented crown. It is typically creased lengthwise down the crown and "pinched" near the front on both sides. This Black French Braid Center Real Horse Hair Hat Band is the ideal adornment for a fedora hat.
A straw hat is a brimmed hat that is woven out of straw or straw-like materials from different plants or synthetics. The hat is designed to protect the head from the sun and against heatstroke. This Black French Braid Center Real Horse Hair Hat Band is an unequaled accent for a straw hat.
A Panama hat is a traditional brimmed straw hat of Ecuadorian origin. Ecuadorian wide brim hats are light-colored, lightweight, and breathable, and often worn as Dress Hats with summer-weight suits, such as those made of linen or silk. This Black French Braid Center Real Horse Hair Hat Band is a flawless attachment for a Panama hat.
A top hat is a tall, flat-crowned hat for men traditionally associated with formal wear in Western dress codes, meaning white tie, morning dress or frock coat. The top hat is traditionally made of black or grey silk. This Black French Braid Center Real Horse Hair Hat Band is a supreme complement to a top hat.
If you like this page, this is how you can link to it.
Contact me.
I'll trade links from this page to your relevant page, not to or from a links page.
Google likes links between pages with content relating to similar subjects in an appropriate way.

Back to top of page | Skip to bottom of page
You don't like your credit card on the net?
Click here for an order form to print.
Click here to go to our home page.
I'd LOVE to Hear Your Feedback